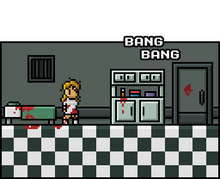 Blood is Mine is an interactive horror webcomic written and created by Matthew "Morgenstern" Morgan and hosted on the ComicFury webcomics service. It began updating on July 18th, 2017 and currently consists of five chapters (with a sixth in progress) and over 700 pages. New pages are posted several times a day, with the frequency of updates varying from as few as one per day to as many as twenty-two. On average, the comic tends to update about four or five times per day.
The format generally consists of one pixel art panel accompanied by a block of prose of varying length. Actions that are taken in the comic are dictated solely by reader input in the comments section of each page, with suggestions being chosen based generally on majority rule. This format tends to encourage collaborative storytelling and discussion among readers regarding which course of action would be best given the current situation the protagonists are facing.
The basic plot follows a young woman, known only as Jane Doe to readers, who wakes up bloodied and bandaged in a hospital room with no recollection of how she got there. As she ventures out into the hospital itself, she finds that she has woken up after some form of disaster has resulted in the hospital being abandoned. However, she is not alone: she must survive grotesque monstrosities that have somehow appeared in the hospital with her. This, of course, is only the beginning. Her adventures pit her and her companions against all manner of foes, from a city's entitled elite to crazed cultists and giant, cyborg flesh-beasts.
Chapters
Edit
Chapter 1: The Hospital
Pages 1 to 114
Complete
A nurse wakes up alone in a hospital with something banging on her door. She has no idea how she got there, only that she needs to find a way out.
Chapter 2: Blood on Mars
Pages 115 to 266
Complete
Surviving the hospital was only the first in a long line of ordeals for Jane Doe and her companions as their search for answers reveals a plot much bigger and far more sinister than any of them could have imagined.
Chapter 3: Unfathomable Hate
Pages 267 to 411
Complete
Every answer leads to more questions as new enemies and potential allies spring up at every turn. With foes vastly outnumbering friends, every day turns into a fight for survival.
Chapter 4: Doors
Pages 412 to 567
Complete
Exploring an abandoned bunker turns into a welcome respite for Jane Doe and her friends. As usual, however, nothing is quite what it seems, and their enemies' next sinister plot is just around the corner.
Chapter 5: Ghosts
Pages 568 to 708
Complete
Unexpected occurrences set into motion a chain of events that turns old enemies into new allies. A dangerous reconnaissance mission leaves the group struggling to save one of their own as new threats begin to close in.
Chapter 6
Pages 709 to 969
In Progress
Actions always have consequences.
Community content is available under
CC-BY-SA
unless otherwise noted.