This is a wiki for Blood is Mine and Blood is Drawn, comics created by Matthew "Morgenstern" Morgan. Here, we attempt to organize the information that has been presented in Blood is Mine for the easy reference of new and old readers alike.
Anyone is free to edit and contribute to this wiki! We welcome your contributions and thank you for your efforts.If you have any questions, or are just looking for a place to chat about these wonderful works, please feel free to join the Blood is Mine Discord server, where we convene to discuss new updates, theories, and just generally get to know each other.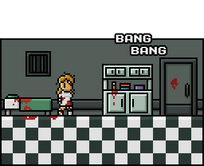 Blood is Mine is an interactive horror webcomic written and created by Matthew "Morgenstern" Morgan and hosted on the ComicFury webcomics service. It began updating on July 18th, 2017 and currently consists of eight chapters (with a ninth in progress) and almost 1200 pages. Currently, the comic is being updated once every few days. The format generally consists of one pixel art panel accompanied by a block of prose of varying length.
Actions that are taken in the comic are dictated solely by reader input in the comments section of each page, with suggestions being chosen based generally on majority rule.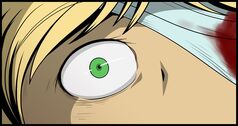 Blood is Drawn is a fully illustrated re-imagining of the first chapter of Blood is Mine. It is co-written by Morgenstern and Rufiangel, and drawn by Rufiangel. It is hosted on the Tapas webcomics platform and also updates on the Webtoons webcomics platform. It began updating on October 16th, 2017, and updates once a week on Tuesdays. As this comic is based on the already completed first chapter of Blood is Mine, the story follows a set plot and is not dictated by reader contributions.
The comic is currently on hiatus as of July 25, 2018. Thirty-six "episodes" have been completed, covering pages 1 to 42 of Blood is Mine.
Licensing
Blood is Mine and related materials are © Matthew Morgan, 2017 and onward. Panels and images from the comic are used here with his permission. 
Latest activity